What is Toddler Unit Lesson Plans?
It's themed lesson plans for toddlers that focus on hands-on, multi-sensory, low-prep activities. Each of the 15 themes contains 20 activities designed to help you reach the skills for your toddler throughout the year. We've done the activity planning so you don't have to!

Designed by 4 experienced teachers and a homeschooler Toddler Unit Lesson Plans provides direction for adapting all the activities for different learners. Whether you need ideas to make an activity for a strong learner or a special learner, these toddler lesson plans cover it all!
Make Theme Planning Easy!:
Every theme contains an introduction and a recommended reading list to round out your theme.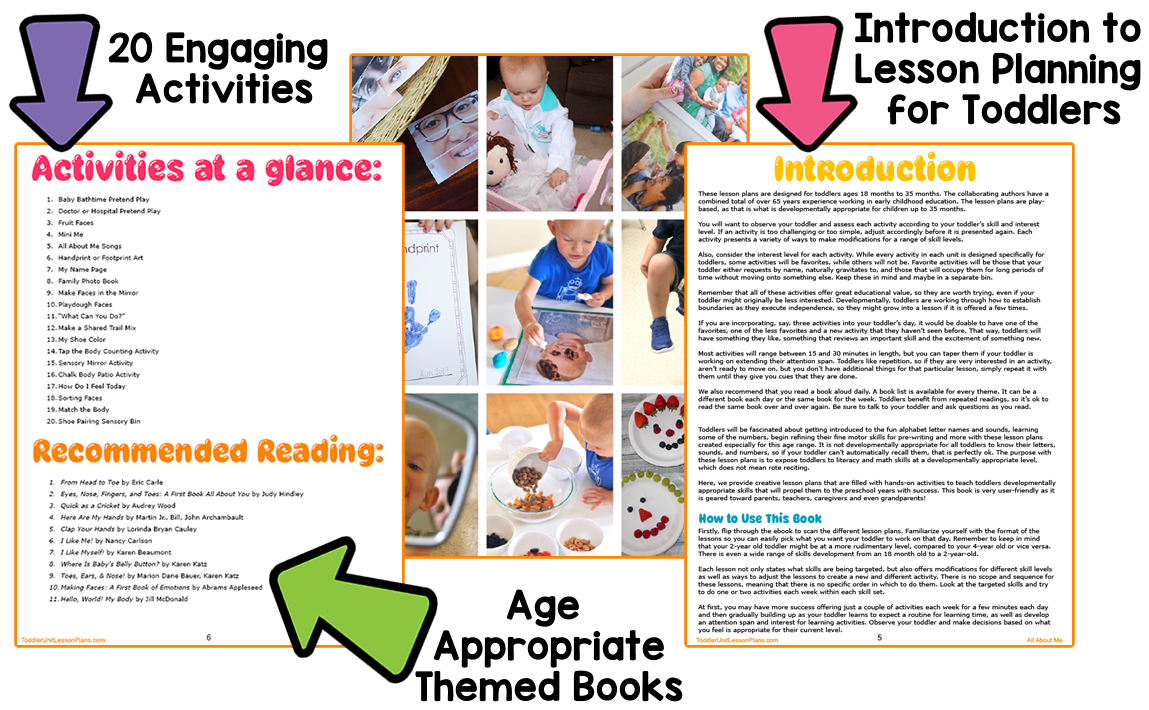 Here's a look at the skills covered in the lesson plans:
Counting
Pre-writing
Literacy
Social and Emotional Well Being
Shapes
Number Sense
Music
Gross-Motor
Fine-Motor
and much more!
What you will find inside:
Skills: a detailed skills list to help you visualize the development in the activity.
Materials: Items to gather before doing the activity
How to: Best read before the activity is prepared to understand how to present it and have toddler engage in the activity.
Extensions: A place to see all the suggestions the teachers have made to take this activity a little further. Or make it simpler.
Modifications: Things that can be added or switched out in the activity.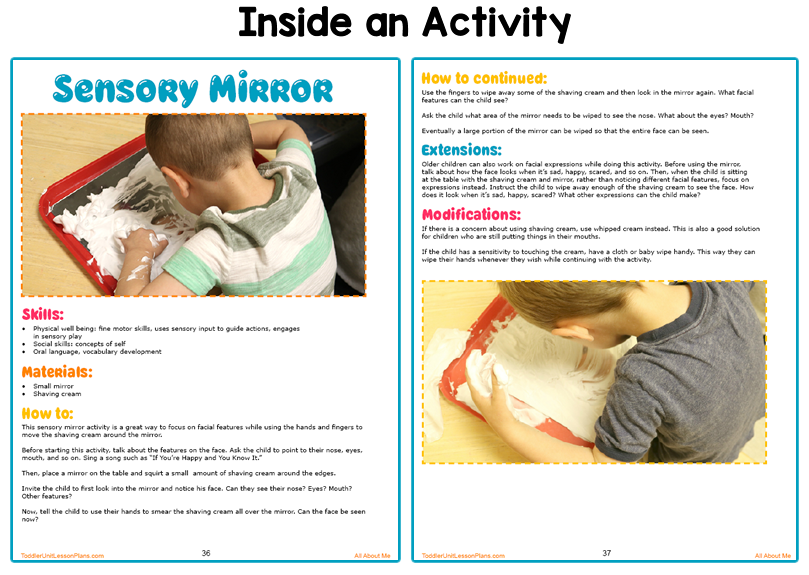 About the Authors:
All lesson plans have been carefully crafted and kid tested!

Whether you are a new teacher developing an entire toddler curriculum, a veteran teacher searching for new inspiration, or a parent homeschooling your toddler, you'll find everything you need in these Toddler Unit Lesson Plans.
Themed Units are currently being released.
Winter
Five Senses
Farm
All About Me
Spring
Bugs, Butterflies and Insects
Animals / Zoo
Under the Sea
Transportation
Community Helpers
Dinosaurs
Summer
Frequently Asked Questions
How do you implement this - Weekly? Monthly?
The lesson plans are written as sets of themed activities rather than a day-by-day guide so the activities can fit into your schedule as needed. Each unit could be used for 1 to 3 weeks depending on how you use them and if you use the adaptations and extensions.
I can't see anything in the "Look inside" feature on the site?
Click here to download a larger look inside sample.